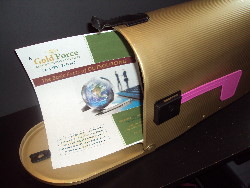 Join the Gold Force mailing list for a free report!
Why join? Join our mailing list* for:
our exclusive Free Report: The Basic Facts of OUTSOURCING
our electronic newsletter of resources and tips to increase productivity
updates about our company's products and services
opportunities to participate in surveys and contests
other information we feel you will find beneficial
*We dislike spam and telemarketers as much as you do! We will not give, sell, trade, barter, or in any way release your information to any third parties except to comply with applicable laws or to protect our visitors or the public. We do not partner with nor share any of your information with any advertising or other company. Click here for more on our policies.

"Finding Michele was a dream come true. I am an independent consultant with no staff, and I am not expert in Microsoft Office. Michele always makes me look good by providing a high level of technical expertise related to producing documents in Excel, Word, Publisher and virtually anything I need. I can handle the basics, but when I know I am out of my league, Michele comes to the rescue. My deadlines are her deadlines and she always delivers in spades. I have recommended Michele many times and I am pleased to do so."
Lynne Abramovich, OH