Welcome to Gold Force Administrative Support
As a business owner you have many responsibilities that you often try to manage on your own. Yet your productivity is taking serious hits from spending time on tasks that, while important, are likely not a good use of your time.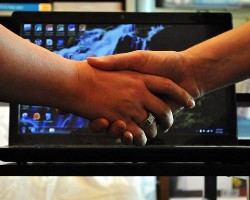 Most busy professionals want to be busy driving the business or organization forward, busy working on the business instead of in the business. Whether your business is a traditional storefront, a service, direct sales, or strictly online, you are going to need help getting various tasks done either due to not enough hours in the day, or because more specific skills are required.
Thankfully, with the powers of computer technology and the speed of broadband, you can contract with a professional to handle much of the administration of your business without hiring an employee. Enter Gold Force Administrative Support. While the industry is called by many names (virtual assistant services, virtual office solutions, administrative outsourcing, administrative assistant, virtual office assistant, virtual administrative assistant), Gold Force Administrative Support is designed for today's diverse business needs, adaptable and accessible to meet client needs as required. Gold Force offers creative and cost-effective solutions and services for your business success, quickly and efficiently taking tasks off of your desk, freeing you to be the most effective leader you can be. If you didn't have to edit that document, enter those sales and customers in QuickBooks, create that presentation or 100 other tasks you'd rather not be doing, you could be out making more sales, networking for more business, maybe even fit in a game of golf or make it home for dinner.
Utilizing a virtual assistant, virtual administrative assistant or virtual office assistant, provides a beneficial resource to your office with the added benefit of outsourcing these services when you need them, without the burden and expense of hiring an employee.
The process is easy. Just contact Gold Force Administrative Support (330-754-2099) and ask for Michele. As a Virtual Assistant, Michele is an independent business owner with a professional interest in your business. She will take the time to explain how quickly the things cluttering your desk become tasks that Gold Force Administrative Support completes for you, reliably and efficiently. Call Gold Force Administrative Support today and get started!

"My companies have utilized Michele's Virtual Assistant services for several years. Michele has access to most anything we do and I trust her integrity to a very high degree. Michele knows when to ask the right questions and always produces great results, I highly recommend her!"
Grant Holmes, TN